"If we have a hope, we owe it to those who have none"
Program in: Arabic, Greek, Spanish,  German, French, Turkish, Italian & Farsi
Starting June 29 through July 1 we are meeting at Goudi Park. With discussions, concerts, exhibitions, events, multicultural cuisines and, above all, a lot of people.
June 29-July 1. We΄re meeting once again at the 21

st

Antiracist Festival to celebrate by saying our very own "No" to racism, nationalism, discrimination, exploitation, borders, the state of exception, imperialist interventions.

But the Festival is not just about saying NO and keeping up the struggle, it's the celebration of solidarity, comradeship and togetherness. It is the common language that cries out that there can be a better future for all.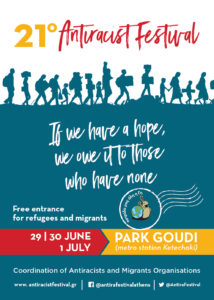 Program
THE CONCERTS
Three days festival, three stages, three unique live experiences
Music is one and much more at the same time. Starting off with this in mind, we set up the music schedule of the Antiracist Festival.  Live for all tastes, but shaped in such a way that every day turns into a cohesive musical proposal. Note that the live performances are to run on all three stages at the same time.
Let's have a more detailed look:
Friday 29 June
Hiphop is going strong in Greece and this is so also at the Antiracist Festival. Lyrics of rage and metropolitan sensitivity in the soundtrack of a generation grown up in the Memorandum era.
On the central stage (1st  Stage)
Vevilos

Agnostos Cheimonas

Rationalistas

Fer De Lance
On decks: Dj Magnum
On the stage of the migrant communities' area (2nd stage)  
Dance and singing by the Kurdistan Cultural Center

Afghan Traditional Music

Kabeiria Percussion-African Percussion

Yovel
On the folk stage (3th stage)
Lalitades (feast from Epirus)
Saturday 30 June
Saturday is an electronic rove on the tracks the whale left at that magical journey that turned our lives around.
On the central stage (1st  Stage)
K.BHTA & MIKAEL DELTA/dj set (Stereo Nova)

Cayetano (dj set)

SWORR.

MENTA
On the stage of the migrant communities' area (2nd stage)
Samy fuego –Latin

Las Galoperas de Atenas

Plaza Girls, Loyal & Payman (Afghan hip hop)

Daisy Chain + Mavri Palirroia

Brak (Hnaria)

Lyrical

punishment

Stelios (Nio.Ste)
On the folk stage (3th stage)
"Rebetika and Folk Songs"
Manolis Pappos-bouzouki, singing

Ioulia Karapataki-singing

Mihalis Darmas-contrabass

Fotis Siotas-violin, singing

Giorgos Fountoukos-guitar
And our feast will go on with
Nikolas Mavros and Vaios Prapas
Sunday July 1
It's the songs that get to you in no time… and those that fit those moments in your life…and it's Ikaria which we love indeed.
On the central stage (1st  Stage)
Natassa Bofiliou

Imam Baildi

Angelika Dusk

Padelis Kyramargios and Plegma
On the stage of the migrant communities area (2nd stage)
Mandela Girls

South Africa Roze Wood-Madagascar

Ubuntu Drum and Dance

Martha Moreleon & Los del Sure

Momentum
On the folk stage (3th stage)
Ikarian feast with Nikos Fakaros
THE DISCUSSIONS
All discussions start at 7 p.m.
Friday 29 June
Greek-Turkish antagonism, rival nationalisms and the bet for a peaceful coexistence
Speakers: Hussein Bebrek (Turkish political refugee), Stavros Tombazos (economist, University of Cyprus), Athina Skamba (Kokkino Nima)
Coordinated by Kyriaki Klokiti (Network for Social and Political Rights)
Interventions: OKDE, Antipolemiki Kinisi
Golden Dawn Trial, the nazi threat and the anti-fascist movement
Speakers: Eleftheria Koumantou (journalist, Golden Dawn Watch), Eleftheria Tombatzoglou (prosecutor at the Golden Dawn trial, "Favela"), Angeliki Valsamaki (Antifascist Coordination of Athens & Piraeus), Petros Konstadinou (KEERFA coordinator)
Coordinated by Anastasia Matsouka (Migrant Social Center)
A discussion on Islamophobia from a Feminist Point of View
Participants: Women Refugees, ARAN women's group, Kiouri@, Sabbat, Group of gender Confrontation, feminist and LGBTQI+ groups
Saturday June 30
Against neoliberal totalitarianism and the far right advance: (towards) which Left in Europe?
Speakers: Elsa Papageorgiou (educator, Paris 8 PhD candidate), Mauro Pinto (Napoli in Direziona Opposta/NDO, Naples), Andreas Pagiatsos (Xekinima)
Coordinated by Katerina Nikolatou (Anasynthesi ONRA)
The Mediterranean, Dead Sea: External and Internal EU Borders and Apartheid
Speakers: Sandro Mezzandra (Euronomade, University of Bologna), Ali (City Plaza Refugee Accommodation and Solidarity Space), Thanasis Voulgarakis (Solidarity Lesvos), Ermioni Frezouli (Chiaki Sympoliteia)
Coordinated by Nasim Lomani (Network of Social Support to Immigrants and Refugees)
Interventions: KAR, KEERFA, United Afghans Community
State of exception of rights, punitive revenge and judicial cruelty
Speakers: Tasos Theofilou (ex political prisoner), a member of the Irianna and Pericles Solidarity Assembly, a member of Rouvikonas
Coordinated by Eirini Gaitanou (Anametrisi/Confrontation, Group of Communists)
Interventions: Initiative for Prisoners' Rights, "Spartakos" Network of Soldiers, LAE's Rights Group
Sunday July 1
Middle East: constant war, militaristic regimes and imperialistic interventions
Speakers: Toufic Haddad (Palestinian author and academic), Kostas Kousiandas (elaliberta.gr), Antonis Davanellos (DEA)
Coordinated by Yannis Albanis (journalist, Network for Social and Political Rights)
Interventions: Kurdistan's Cultural Center, tomov
Struggles for Commons: Housing, Public Spaces, Water
Speakers: Tonia Katerini (Unifying Initiative against House Auctions), Petros Basteas (EYDAP Contributory Movement of Workers and Pensioners), Eleni Portaliou (Committee of Struggle for the Metropolitan Park of Elliniko)
Coordinated by Giorgos Velegrakis (KOKKOI)
Workers' struggles and victories in the memorandum era
Speakers: Labros Mastorakis (Radical IT-SETHP Board member), Giorgos Stamatonikolos (NGO employee), Tasos Christopoulos (Manufacturing Branch-Rocinante), Anna Aslanidou (Board member of the United Trade Union of Vodafone/Wind/Victus)
Coordinated by Mihalis Katerinis Linardos (trade unionist in telecommunications)
Self organized Areas
Area of Ideas and Publishing Ventures

Lgbtq-i

Initiative against Mining (Epirus)

Refugee Housing Squats
The Multicultural Cuisines
The most open and hospitable of all tables in city will be the one at the 21st Antiracist Athens Festival, which will be full of flavors and tastes from many parts of the world. The migrant and refugee cuisine will once again reign the three-day festival, with women and men refugees and migrants preparing salty and sweet traditional dishes of their homelands. In this savory feast will take cook people from Egypt, Ethiopia, the Ivory Coast, Afghanistan, Venezuela, Zimbabwe, Iran, Cameroon, the Social Network of Solidarity-Turkey, Kurdistan, Madagascar, Malaysia, Morocco, Mozambique, Nigeria, the Niger, Women of Nigeria, South Africa, Senegal, Sierra Leone, Sudan, Turkey-Kurdistan, the Philippines, students from "Piso Thrania".
The Festival will lack neither the raki mezedes of Rakadiko nor the dishes of the El Chef collective kitchen.
PLAYGROUND
Sketching workshop for children "Painting little hovering steps"

Story telling

Theatrical play, creative workshops and games
EXHIBITIONS
Poster exhibition from May '68
"Fine Arts are in the streets": Well known and less so posters by the pop art workshops of the Sorbonne and of autonomous political groups.
The exhibition is accompanied by a video and excerpts from the documentation cinema of the time.
Photography
"Woman refugee" by Marios Lolos

"PRINTS OF AN URBAN LANDSCAPE" by Giorgos Nikolaidis
Sketches on the refugee issue
(Conceded by the Greek Union of Cartoonists)
"The hovering step", Yannis Kalaitzis, Tasos Anastasiou, Kostas Vlahos, Dimitris Georgopalis, Kostas Grigoriadis, Spyros Derveniotis, Dranis-Yannis Drakos, Panos Zaharis, Petros Zervos, Yannis Ioannou, Mihalis Kountouris, Yannis Kyriakopoulos (KYR), Ilias Makris, Panos Maragkos, Panagiotis Mitsobonos, Efi Xenou, Vasilis Papageorgiou, Vaggelis Pavlidis, Andreas Petroulakis, Konstadinos Rouggeris, Soloup, Stathis (Stavropoulos), Maris Tzaboura, Dimitris Hantzopoulos, Vaggelis Herouvim.
Info
A MEDIA CENTER will run at the area of the Festival
21st Antiracist Athens Festival : June 29,30, July 1-Goudi Park
Contribution: 5E/daý | 10E for all three days | free for refugees and migrants
General opening hour: 6 p.m.
Discussion starting hour: 7 p.m.
Concert starting hour: 9.30 p.m.
More on Website: www.antiracistfestival.gr, @ Facebook  & @AntiraFestival
Our homeland, the whole world!
Coordination of Antiracist & Refugees/Migrants Organisations